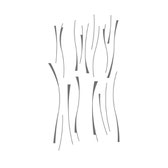 OUTDOOR SWIMMING POOL
Type: Open international competition.
Location: Vilagarcia de Arousa, Spain
Year: 2021
Program: Sports facilities
Size: 3,575m2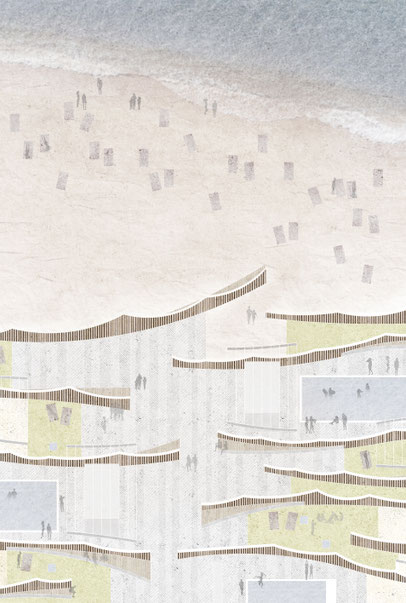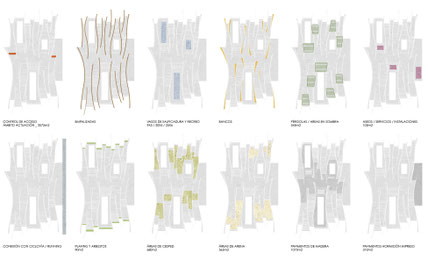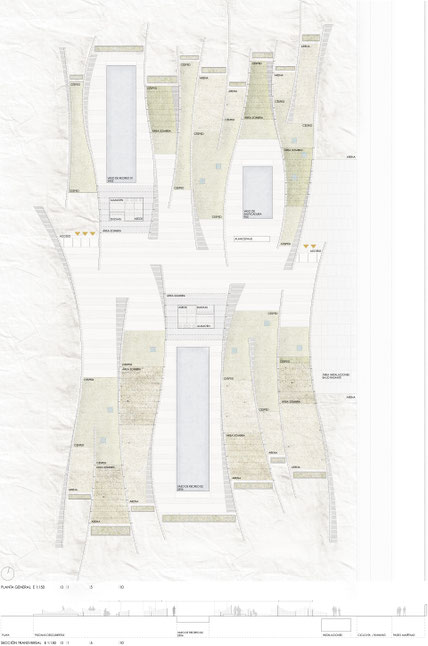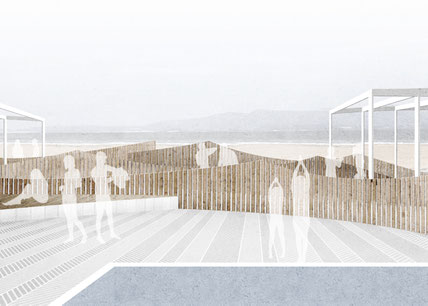 The creation of a landscape landmark in the surroundings of La Concha-Compostela beach is proposed, as a transition between the built urban fabric and the natural ecosystem that it intends to serve as a public endowment. Its unique character aims to reflect the changing nature of the beach and the nearby sea, through the installation of programmatic bands bounded by sinuous elements of variable heights.
The proposed geometry recalls the movement of the waves of the sea and the nearby sand, varying along the different points that define the program, producing a series of bands parallel to the coastline that allow you to see the sea from the promenade maritime. The open spaces combine soft and hard surfaces, service areas both for the projected swimming pools and for the beach and the activities that take place there.
It is a project that aims to reduce the environmental impact of the required facilities through the implementation of different constructive and layout strategies capable of merging with the surrounding landscape. The use of sustainable, recyclable and reusable materials is combined with the use of native plant species adapted to the salty climate of the beach.
The existing toilets are modified and expanded, becoming a public facility for the updated beach, which guarantees functionality and accessibility appropriate to current needs. The creation of two independent pavilions is proposed, under two metal pergolas, which take up the language used in the solution proposed in the swimming pools. The connection between both parties is resolved in a natural way following the route defined by the promenade, avoiding added costs in the general operation.