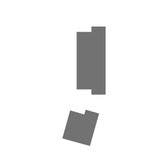 ALCANIÇA SOCIAL HOUSING
Type: Open international competition.
Location: Almada, Portugal
Year: 2020
Program: Housing
Size: 2,765m2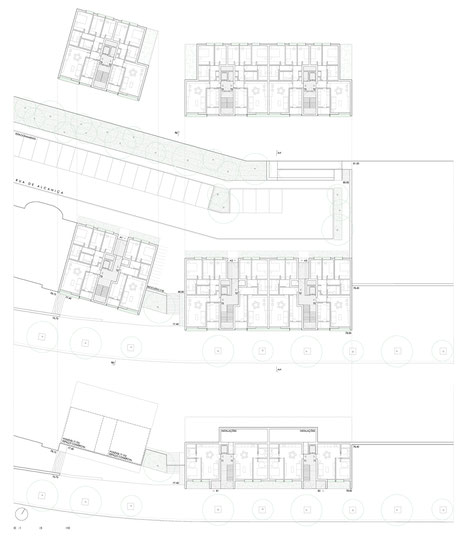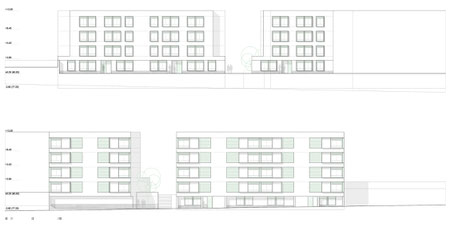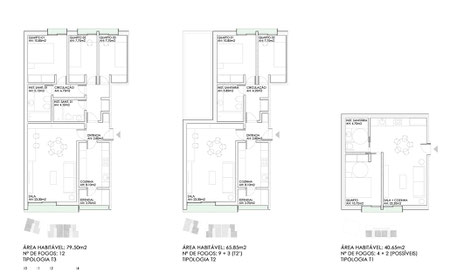 The new set of houses is inserted into a consolidated urban fabric, trying to adapt to the volumetric conditions of its surroundings, ensuring the existing visual continuity. The alignments and heights of nearby houses are maintained and prolonged, in an operation that fills an existing void in the city. The proposal must be understood as a single element, made up of two different pieces but joined together by a public staircase. A transition space that guarantees the connection between Rua de Alcaniça and Rua Bela Vista streets. The continuity of the pedestrian routes of the first one is guaranteed by creating a ramp and stairs at the +80.00 level, which give access to the +81.50 level. The end of this street is organized to guarantee both the parking of vehicles and the maneuvering of the same to change direction. A tree front serves as the backdrop and finish for the public space at this point.
The main accesses to the houses are made from the +80.00 level. Distributed in four heights above this level, the houses adapt to the different orientations, creating different types T2 and T3, which respond to current living conditions. Below this level, the T1 homes are distributed, which guarantee accessibility for residents with reduced mobility, with direct access from the +77.50 level, or via the elevator that vertically connects each nucleus of the complex. The distribution of the houses in functional bands allows the bedrooms to be oriented to the north and the living and kitchen areas to the south, placing an intermediate strip of services and storage that separates them. The double orientation allows natural lighting and cross ventilation, which improves the energy performance of each unit.
The proposed construction system, through a concrete structure with exposed slabs, and brick cladding finished on the outside with a waterproof coating, guarantees tight construction costs as well as its durability over time. Simple and robust materials that are combined with painted anodized aluminum elements that frame the holes in each home, giving the whole a character and a recognizable image in the environment in which it is inserted. The measures adopted to ensure remarkable energy efficiency involve the use of carpentry with thermal bridge breakage and low-emissivity glass, and thermal insulation systems on facades and on each floor. The solar panels on the roof, and the reuse of rainwater, optimize the building's energy consumption.