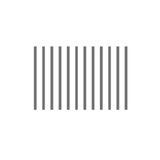 PARQUE DE LA DEHESA PAVILLION
Type: Open international competition.
Location: Soria. Spain.
Year: 2009.
Program: Public building.
Size: 225m2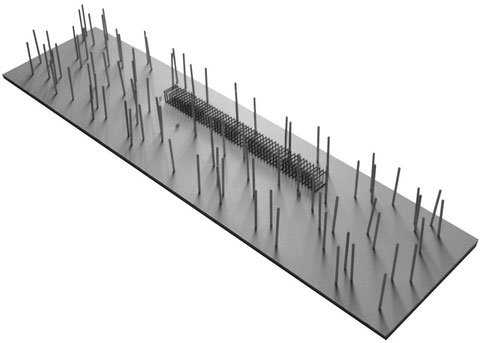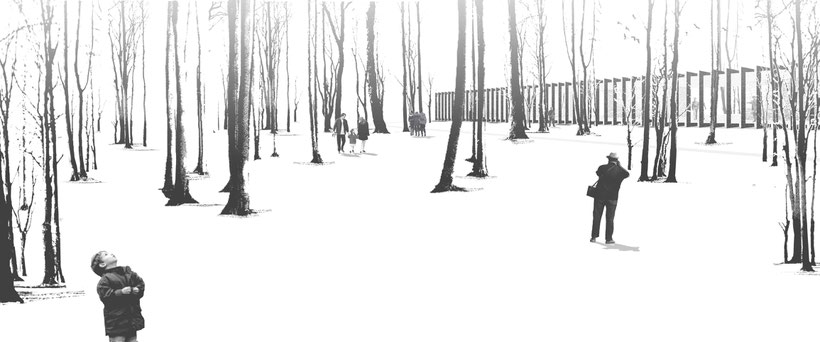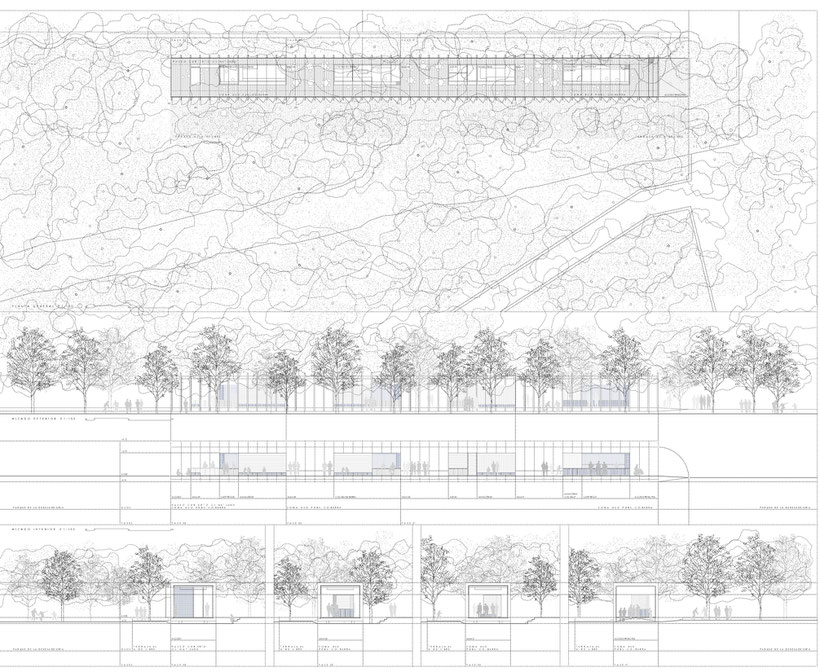 The insertion of an artificial element in a natural environment is always an opportunity. Considering as main protagonist the Park of the Dehesa de Soria, the proposal is subordinated to him. This translates into a piece that accepts at all times the existing vegetation and that is inserted in it, it is therefore an urban acupuncture operation. The environment is respected and improved, increasing the trees and giving the space a use that enhances its main features. Architecture understood as a tool at the service of society, in response to a demand.
Attending to the needs of the environment, the idea of creating a covered air-conditioned walkway, with the possibility of opening to the outside, generates in the place a series of opportunities that encourage the playful use of this public space. The space next to the pavilion is completed with a wooden pavement that functions as an exterior walkway, which during the summer months becomes a large outdoor terrace. The wood as a configurator element of a system that is integrated between the vegetation of the park.
A piece is proposed whose greatest virtue is its logic and its repetition. The modulation of its structural system translates directly into a fast and standardized construction. Laminated wood rings result both in structure and exterior finish. The practicable glass enclosures allow the passage of light inside, while providing transparency to the whole. The vertical rhythm generated is integrated into the mass of trees that surround the proposal. Being therefore a covered street, inside a series of elements appear as urban furniture. These contain the program of this pavilion. As if it were a Russian doll; cafeteria, warehouses, kitchen ... are configured as small wooden furniture and zinc, which can be opened or closed depending on the needs of use at any time. Contents within the structure of wooden rings, which in turn belongs to the framework of the park.
This rationalization makes it possible to face construction in an open manner. The organization of the program defines three phases of building growth, being perfectly operational from the start. In the same way as a train, the locomotive and the successive wagons create the final set, which grows according to the external conditions. The proposed uses in the program can be combined with others of a public nature, which enhance the spirit of this proposal.
The opportunity has to be exploited.