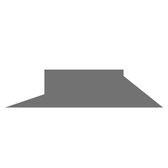 NOAIN SPORTS FACILITIES
Type: Open international competition.
Location: Pamplona. Spain
Year: 2017.
Program: Sports facilities.
Size: 500m2
BUdget: 365.000€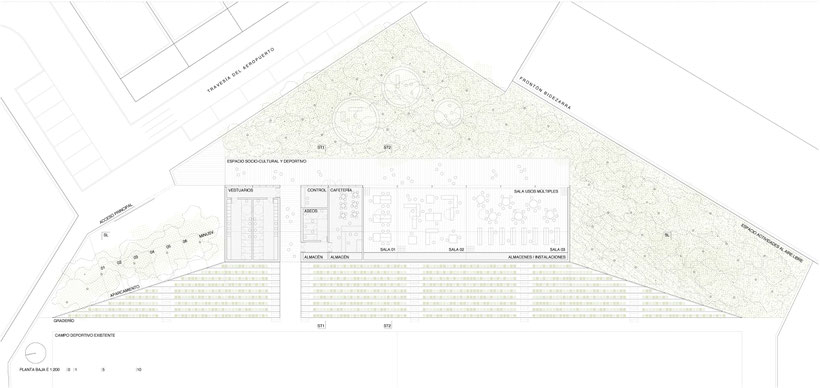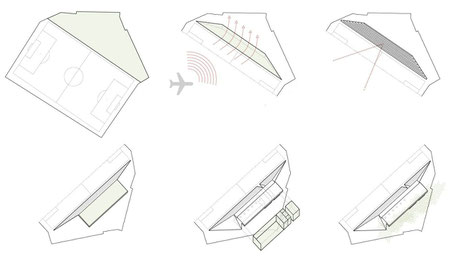 SCOPE OF ACTION
The perimeter of the proposal includes a sports field and a building with changing rooms. It is proposed to eliminate the existing volume and establish a direct relationship with the ground soccer field. The position of the new volume should respond to the need to act as a door to the socio-cultural and sports space.
ACOUSTIC BARRIER
The proximity to the airport transforms the problem generated by noise pollution into an opportunity. Thus, the operation of trimming the ground and lifting the created surface allows obtaining a space protected from the sound on the other side of it. It also reduces the impact of sound on nearby buildings.
BLEACHERS
The previous gesture produces an optimal surface to equip the existing sports field with a grandstand that enhances its use and public attendance. In this way, what used to be a horizontal surface is transformed into an inclined plane capable of hosting spectators and thus allowing it to hold diverse events on the plot.
COVERED SPACE
Behind the bleachers there is a covered space, where you can develop other socio-cultural activities protected from the inclemency of the weather. A horizontal surface is projected that flies over the plot and that will increase the available area until reaching the one required in the specifications. Above it, there is a vegetation cover that integrates the building in the plot and reduces the perception of its size from the view of the area that travels by plane.
ACTIVITIES CONTAINERS 
Under the roof, there are rooms that house the changing room, control, cafeteria and store and facilities, as well as a multipurpose room that can be divided into smaller parts. It opens completely to outer space to be considered an outdoor room. Skylights on the roof reinforce the entrance of natural light into the multipurpose space.
GREEN PROTECTION
Between the proposed volume and the nearby buildings, the placement of several vegetable species that fulfill two functions is considered. The first one, generate a space for outdoor activities in the shade, and the second, provide an added acoustic protection to nearby homes from the noise coming from the airport.