HORNACHUELOS SOCIAL HOUSING
HONORABLE MENTION
Type: Open international competition.
Location: Córdoba. Spain.
Year: 2017.
Program: Housing.
Size: 1.735m2
Budget: 630.000€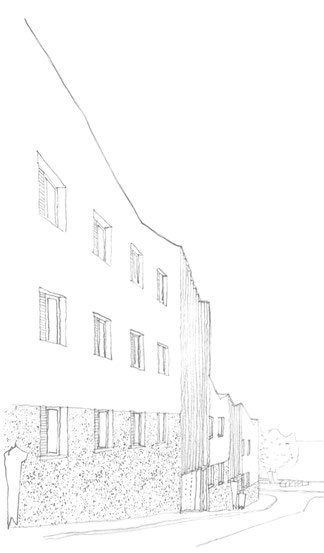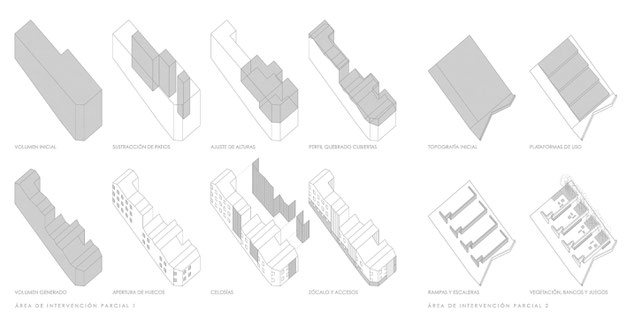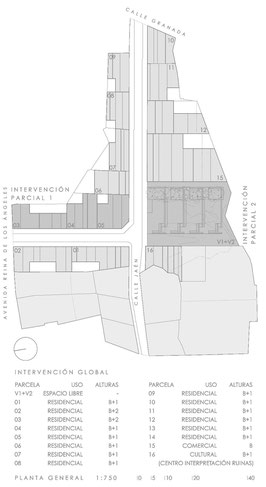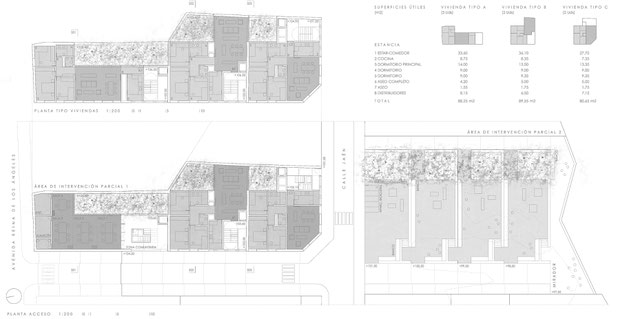 The simple action of stretching a towel over the sand allows the bather to feel at home within an area as wide as the beach. That same gesture is the action that triggers the proposed project. In this case the fabric to be extended will be the folded covers that will unify the set provided in the global intervention area. The broken profile of the cornices together with the serial façades and the common construction system, are intended to give unity to this group of buildings. Like bathers, the ceramic decks will be deployed among the rest of existing constructions.
The dwellings proposed for the area of partial intervention 1 are staggered due to the steep slope of the road leading to the public space, while a community area is generated under the block of plot 03. Each of these blocks use the interior patios that facilitate cross ventilation and improve the natural lighting of the 7 raised homes. The use of the ceramic material in decks will be extensive in the pavements of the public urban space of the partial intervention area 2. Again, it will be folded forming different levels that will create bounded play areas protected with vegetation and overlooking the valley.
The constructive solutions adopted, deliberately seek the reduction of costs and subsequent maintenance of the buildings, while ensuring their execution in a realistic manner and in a sustainable period of time. Thus, ceramic elements such as tile and plaque, water-repellent mortar, brick and wood, will be the endowment of unity and, thanks to the architecture and treated with the good work of traditional crafts, will result as a solution that meets the needs of its inhabitants.